Today is Ground Hog Day
 — my husband isn't hogging anything except maybe the title of 'best skier that I know'.  (Yes, these are pictures of David.  I know–WOW!  Special thanks to
Mike Saemisch
for the fantastic photos!) More about skiing in a bit.  First,  I can't let Ground Hog Day go without at least a nod.  (Especially because I live in an area where we have winter).  Here is a little history on Ground Hog Day:
"Groundhog Day has its roots in astronomy.
 What you might not know is that Groundhog Day is really an astronomical holiday. It's an event that takes place in Earth's orbit around the sun, as we move between the solstices and equinoxes. In other words, Groundhog Day falls more or less midway between the December solstice and the March equinox. Each cross-quarter day is actually a collection of dates, and various traditions celebrate 
various holidays
 at this time. February 2 is the year's first cross-quarter day…"–earthsky.org I am glad that Phil saw his shadow this morning.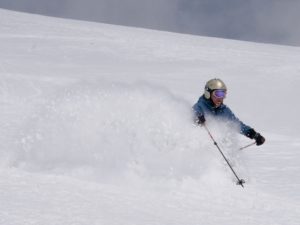 What did I just say?!
  GASP!  Yes, I did–reason being that my husband and I got a really late start on ski season this year so we have some catching up to do.  Spokane has quite a few great places to ski.  Our personal favorite ski hill is
49 Degrees North
,  They have had 5 inches of new snow in the last twelve hours with 104 inches at the top.  Looks promising!  (Note–I say all of this because the last time we skied it was in sunshine.  If the sun decides to be scarce, I will most likely be changing my tune).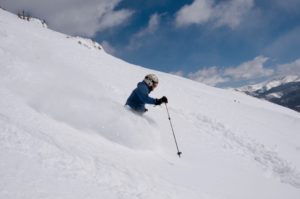 If skiing isn't your thing, how about football?  We have a SUPER day coming up with great food opportunities.  The menu and gluten-free recipes I included in my last post,
MOONING AN IDEA, 
would work well for this occasion too.  Even the colors would work for one of the teams, (Blue and Red).  Personally, I like a good
Philly Cheese-Steak
over New England Clam 
Chowder
.  If you like a little heat, the
Buffalo Wings Popcorn
is fantastic and a game day MUST! Today is gray and chilly so I think that I will honor the hog by making soup using Italian sausage.  This is one of my favorite recipes for a 'copy cat' Zuppa Toscana.
Zuppa Toscana
Ingredients
1 lb Italian sausage (I like it spicy)
2 large russet baking potatoes, sliced in half, and then in 1/4 inch slices
1 large onion, chopped
1/4 cup bacon
2 garlic cloves, minced
2 cups kale, chopped
3 cups chicken stock
3 cups water
1 cup whipping cream
Instructions
Cut bacon  into strips, cook and drain.  Reserve for later.
Brown sausage in soup pot
Add onions  and sauté until translucent, add garlic and sauté for about 30 seconds.
Add chicken stock, water, and potatoes and cook on medium heat until potatoes are done.
Add red pepper flakes, salt and pepper to taste, turn to low heat and add kale, cream, and bacon.
Heat through and serve
One last little thing: Where do football players go when they need a new uniform?
. . . . . . . . . . New Jersey (Sorry about that, I couldn't resist!)