The heart of the matter is that it is the heart that matters. To have optimal cardiovascular health, your emotional and spiritual heart is just as important as your physical heart, and care must be given to all aspects of this vital organ.  Read more
60 to 100 beats per minute is a normal resting heart rate for adults.  Generally, a lower resting heart rate suggests more efficient heart function and better cardiovascular fitness.  Heart disease is the number one cause of death for both men and women in the United States. It is an equal opportunity killer which claims approximately 1 million lives annually and cardiovascular diseases claim more lives than all forms of cancer combined!  It is the number one killer of women and since 1984, more women than men have died each year from heart disease. But don't despair, the good news is that it is preventable.  February is Heart Health Month and a good time to learn more about your own health and what you can do to beat heart disease.
We all know that our food choices are a big deal, especially to our heart health.
Favorite Heart Health Foods
Yogurt-Research shows yogurt may protect against gum disease.  Gum disease may elevate a person's risk for heart disease.
Whole Grains-People who eat plenty of whole grains tend to be leaner and have a lower risk of heart disease than those who don't.
Beans-Eating beans regularly is good for your heart.
Salmon/Fish-Consuming two or more servings of fish per week is associated with a 30 percent lower risk of developing coronary heart disease over the long term.
Nuts-Are full of vitamins, minerals, heart-healthy monounsaturated fats and low levels of saturated fats.
Chocolate-Eating moderate amounts of flavanol-rich dark chocolate has a blood-thinning effect, which can benefit cardiovascular health.
Tomatoes-Cooking may actually increase the health benefits of this fruit because their lycopene is more available and antioxidant activity is undiminished by cooking.
Apples-Among many health benefits, apples were associated with a lower risk of death from both coronary heart disease and cardiovascular disease in the Iowa Women's Health Study.  Apples are also rich in pectin, a form of soluble fiber known to help lower cholesterol.
Berries-Eating under a cup of mixed berries daily for eight weeks has been associated with increased levels of "good" HDL cholesterol and lowered blood pressure.
Pomegranates-This fruit may help to reduce the buildup of plaque in arteries and lower blood pressure.
Bananas-Potassium in bananas helps the kidneys excrete excess sodium which contributes to healthy blood pressure.
Popcorn-Has polyphenols–antioxidants linked to improving heart health.
Green Tea-Scientists have found that those who drink 12 ounces or more of tea a day are about half as likely to have a heart attack as non-green-tea drinkers.
Wine/Alcohol-Drinking in moderation may protect the heart by raising "good" HDL cholesterol, decreasing inflammation and "thinning the blood"… Go to EatingWell to read the complete article.
Hot Peppers-They taste hot due to capsaicin (prounounced kap-say-sin).  Hot peppers may help lower blood pressure and high cholesterol.
Turmeric-Curcumin is the active compound in turmeric and is known to block biochemical reactions involved in enlargement of the heart chambers, inflammation, and fibrosis.  Turmeric helps to reduce plaque build-up and can reduce bad cholesterol.
Garlic-Consuming garlic on a daily basis, (raw is best), it helps to lower cholesterol levels.  It is also beneficial to regulate blood pressure and blood sugar levels.
Onions-Have many health benefits including reducing the risk of obesity, heart disease, and cancer.
Oatmeal-With lots of omega-3 fatty acids, folate, and potassium, oatmeal can lower levels of LDL (bad) cholesterol and help keep arteries clear.
The Mayo Clinic recommends these strategies to prevent heart disease:
Don't smoke or use tobacco
Exercise for about 30 minutes on most days of the week
Eat a heart-healthy diet–a diet rich in fruits, vegetables and whole grains can help protect your heart.  Aim to eat beans, low-fat or fat-free dairy products, lean meats, and fish.  Avoid too much salt and sugars and limit saturated fats and trans fats.

Two of my favorite things are dark chocolate and chili peppers.  Lucky for me, both of these foods are good for my heart!!!  Here are some great ideas from the American Heart Institute:
How to add chocolate to your favorite family meal:

Mix ground coffee, unsweetened cocoa powder and spices to make a dry rub for grilling meat.
Add cacao nibs to a green salad with lowfat cheese for a crunchy bite.
Sprinkle crushed cacao nibs over a pureed vegetable soup, such as cauliflower and parsnip.
If making pasta from scratch, add unsweetened cocoa powder to the dough.
Spread natural, unsaltedpeanut butter over half of a whole grain bagel and layer with sliced bananas. Sprinkle unsweetened cocoa powder on top.
Add bittersweet chocolate chips to granola or oatmeal cereals.
Add cocoa powder to your morning oatmeal with cinnamon, vanilla and raisins.

How to add chili peppers to your favorite family meal:

For the best flavor, use a pepper grinder.
To dehydrate dried chilies, pour boiling water over them and cover for 20 to 30 minutes. Discard stems, seeds and ribs. Puree with tomato sauce. Replace tomato sauce with your chili-tomato puree on whole grain pasta, bean chilies or whole grain tortillas.
Add minced roasted chili peppers to low-fat mayo, plain low-fat or fat-free Greek yogurt or hummus to make a dip for fresh vegetables or as a sandwich spread.
Place two types of shakers at the table: black pepper and crushed red pepper.

Mardis Gras is next Tuesday, February 13.   This is my recipe for a heart-healthy Jambalaya, and it is gluten-free.  It is a little spicy, so you may want to back off on the cayenne.
I hope you like it!
Big Easy Jambalaya
Ingredients
2 tablespoons olive or avocado oil
1 onion, chopped
1 small red bell pepper, chopped
1 small green bell  pepper, chopped
2 ribs celery, diced
3 cloves garlic, minced
1 lb boneless skinless chicken breast, cubed
8 ounces gluten-free andouille sausage, sliced 1/4 inch thick
8 ounces raw shrimp, deveined
1 teaspoon oregano
1 teaspoon dried thyme
1 teaspoon dried basil
1/2 teaspoon cayenne pepper
1/2 teaspoon Old Bay Seasoning
kosher salt and freshly ground pepper to taste
1 teaspoons tomato paste
1 cup long-grain white rice
1 14.5 ounce can fire roasted tomatoes
2 cups chicken stock
3 or 4 scallions, sliced
Instructions
Heat oil and sauté the sausage until it begins to brown.  Remove with slotted spoon.
Add chicken to hot pan and season with salt and pepper.  Brown chicken on all sides and remove with slotted spoon.
Add onions to pan and sauté until translucent.  Add peppers, celery, and garlic and cook for 1 or 2 minutes.
Add seasonings and tomato paste and cook another minute or two, until the tomato paste turns brown.
Add rice, sausage, tomatoes, and chicken stock and stir until combined.
Place mixture in an oven proof pot or dish and top with chicken.
Bake at 350 degrees F for 40 minutes or until rice and chicken are tender.
Stir in shrimp, cover and cook for another 5 minutes or until shrimp is pink
Sprinkle with scallions and parsley and serve.
Avoiding stress is important for good heart health and a great de-stresser for me is knitting.  This is a fun and easy pattern for a hand-knit dishcloth and it is perfect for a Valentine's Day gift.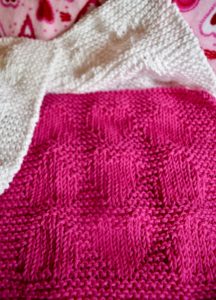 One ball of cotton yarn, size 7 needles Cast on 40 Stitches, K = knit, p = purl.
This pattern is not suited for using a different border.
Row 1-9 and all odd rows) Knit across
Row 10) k9, p2, k6, p2, k2, p2, k6, p2, k9
Row 12) k8, p4, k4, p8, k4, p4, k8
Row 14) k7, p6, k3, p8, k3, p6, k7
Row 16) k6, p8, k3, p6, k3, p8, k6
Row 18) k6, p8, k4, p4, k4, p8, k6
Row 20) k7, p2, k2, p2, k6, p2, k6, p2, k2, p2, k7
Row 22, 24) knit across
Row 26) k9, p2, k6, p2, k2, p2, k6, p2, k9
Row 28) k8, p4, k4, p8, k4, p4, k8
Row 30) k7, p6, k3, p8, k3, p6, k7
Row 32) k6, p8, k3, p6, k3, p8, k6
Row 34) k6, p8, k4, p4, k4, p8, k6
Row 36) k7, p2, k2, p2, k6, p2, k6, p2, k2, p2, k7
Row 38, 40) knit across
Row 42) k9, p2, k6, p2, k2, p2, k6, p2, k9
Row 44) k8, p4, k4, p8, k4, p4, k8
Row 46) k7, p6, k3, p8, k3, p6, k7
Row 48) k6, p8, k3, p6, k3, p8, k6
Row 50) k6, p8, k4, p4, k4, p8, k6
Row 52) k7, p2, k2, p2, k6, p2, k6, p2, k2, p2, k7
Row 53-60) Knit across
Bind off and weave in ends.
This pattern was created by Susan Mrenna 2007 Knit A Little http://knitalittlestore.blogspot.com/search/label/Valentine's%20Day